Saturday, October 06, 2007
After my last disappointing finished object I needed a little boost in the knitting self-esteem department! :op Haha!

So I pulled out something that would be fast & easy.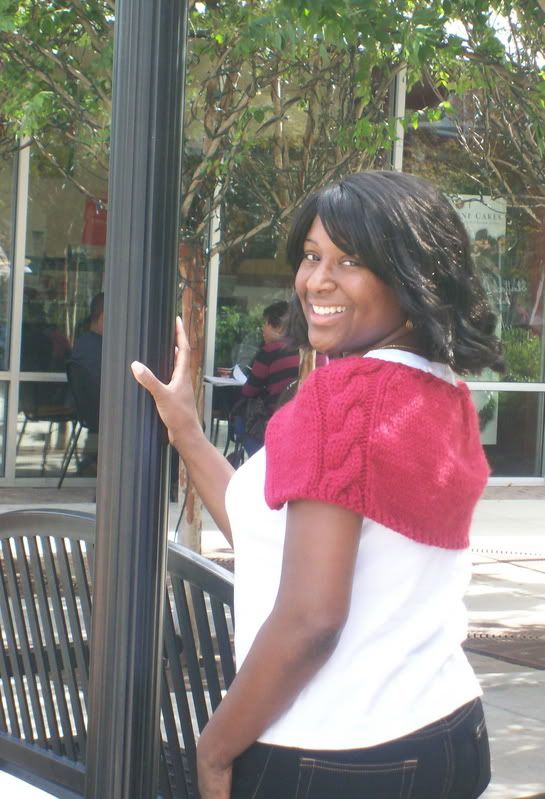 Well, ever since the month of May I was "supposed" to have made this cute little number as a quick KAL with Mrs. Purls and Turtlegirl. Some of you may remember reading on Turtlegirl's blog the "challenge" I served her just to egg her on! And she knew it and did it happily because her competitive spirit is something fierce! Haha! :op It was all in fun because we all knew I wasn't even going to knit it up right then! I hadn't even bought the yarn at that point.

I finally purchased the yarn back in July when my buddy Traveling Teddy was here with me and it just sat here waiting for this perfect moment!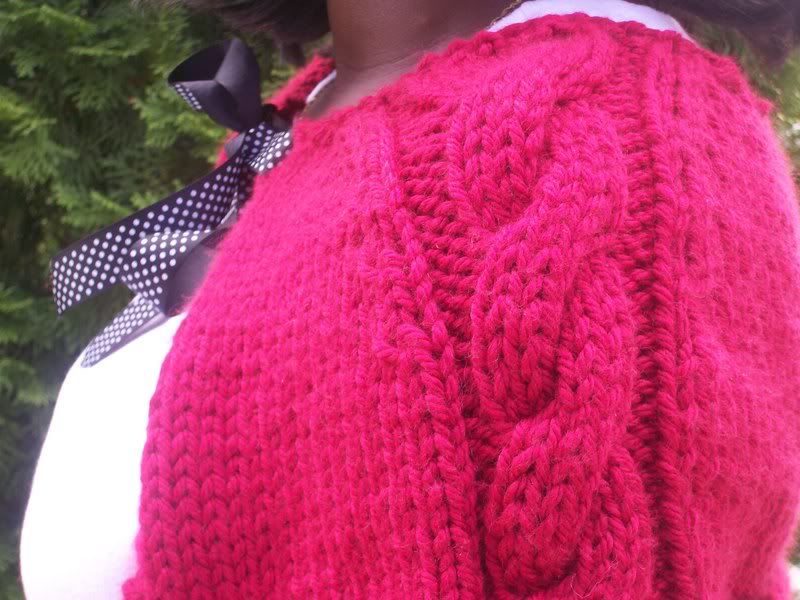 Pattern:
Passin the Dress Code
by
Champagne Maker
pattern available at my fav LYS
Charlotte Yarn
(you can actually call to order the pattern directly from there).
Needles:
Denise US10 & US11 (oh my gosh I haven't knitted on those large size needles in forever! It felt weird at first Haha!)
Size:
One size
Yarn:
Debbie Bliss Cashmerino Superchunky #16011, 2 skeins (with some leftover)
Cost:
$6 bucks for both balls of yarn (Yep!! I had a discount from my LYS for being a frequent shopper :op Haha!) $1 for the ribbons. This would normally be at least a $30 project!
I would definitely consider substituting the yarn for something like the new Bernat Cashmere natural blend line! Mmmh....but that might not be chunky enough...anyway
Time:
This is a VERY quick knit! I loved it! It makes for a great "knit fix" only 37 rows! A few hours after work a few nights and you are done!
What I learned:
My almost 1st cable project! (I actually have been working on a charity hat that I learned how to cable on) so you could say this is my 1st completed cable project.
And I was able to put my new harmony cable needle to use!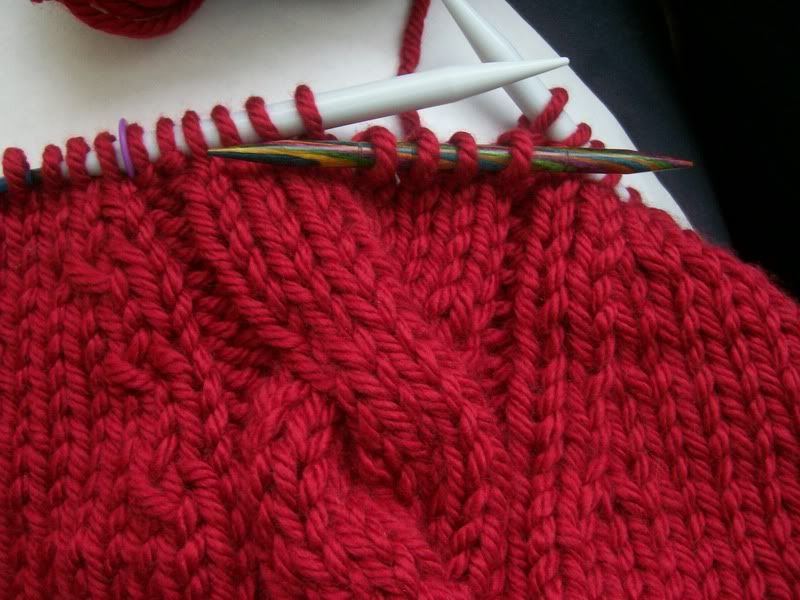 This will be marked in the books as one of my
Fall Cable KAL 2007
items.
I also finally learned, all on my own, how to fix my stitches that I may have inverted (well with the wonderful assistance of the
Knit Fix
book :op). Gotta love it!
Modifications:
None needed
You can switch out your ribbons to shake things up a bit! :oD
Y'all know I luvs me some red and chocolate together!


Verdict:
Do it!! Yeah it is still in the mid-80s here and declared a drought (seriously) because we are in a major rain deficit....but it was great to still knit it up!
Renee
and
Fairiegirl
both just finished their capelets too! :o) This would make great quick knit for gifts as well!
And here is my America's Next Top Knitter pose! ROTFL!! :oD
(I am learning from the best
Ms. Erica
!)
I call it my Ms. L.ittle (N.aughty) R.ed R.iding H.ood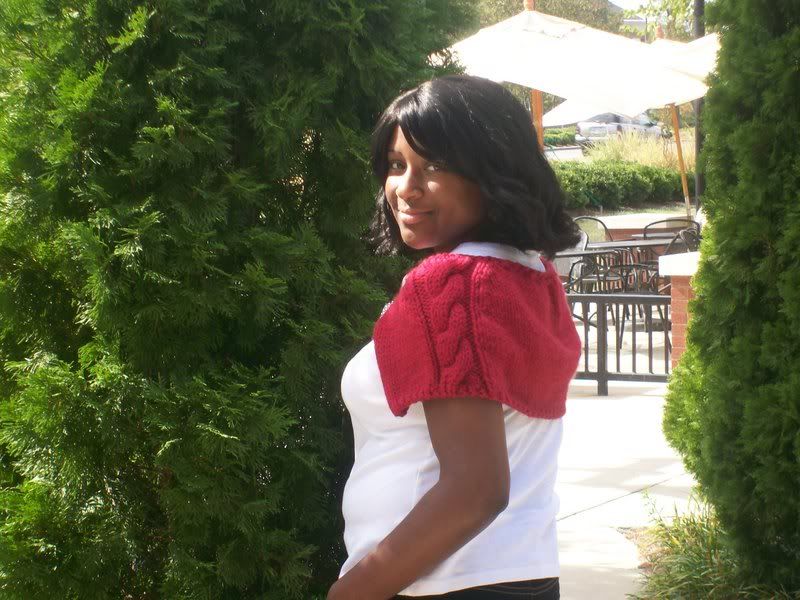 27 Comments:
October 6, 2007 at 11:26 PM

 

Cute, cute, cute!

Perfect for those times when you need just a little bit of warmth--like an overly AC'd movie theater or the office or on a date with Prince Charming where he takes you to a romantic outdoor restaurant..

October 7, 2007 at 1:43 AM

 

Very cute!!!!!!!! Look at you!I have to try cables!!! LOL

October 7, 2007 at 1:51 AM

 

Love that, is so cute! I love the photos too... pure hotness!

October 7, 2007 at 6:19 AM

 

Beautiful! Love the color and the cables.

October 7, 2007 at 7:20 AM

 

Glad you knit this!!! It turned out great! I'll be glad when it starts to cool off around here...and get more rain!

October 7, 2007 at 8:04 AM

 

Alright nah, Miss. Little Naughty Red Riding Hood!! Lol cute!

October 7, 2007 at 9:08 AM

 

Love it and cables oh my!!! I must have that pattern. You did a great job and it's so cute in red.

October 7, 2007 at 9:39 AM

 

LOVE it, Stacey!!

You naughty little rebel!

What a great idea to have a little somethin' somethin' to wear over a tank!

October 7, 2007 at 10:10 AM

 

OHH That is super cute! I happen to have 2 skeins of casmerino super chunky in my stash! HMMMMM

October 7, 2007 at 11:26 AM

 

Excellent job and tres chic! You did a wonderful job with your cables they look great and weren't they fun, fun, fun?????

The fact that it was (sssshhhhhhhh) bargain priced is a bonus and a half!

October 7, 2007 at 3:07 PM

 

What a cute little capelet! And well knit, too!

That was a quick knit!

October 7, 2007 at 3:20 PM

 

You are all about the red, girlfriend! And it looks stunning on you. Great job! I'm sure that was a great little pick me up!

October 7, 2007 at 8:20 PM

 

I absolutely LOVE that!! Red is definitely your color. I never tried putting chocolate with red together before, but I love it! Wow! I have to get that pattern. Those Harmony cable needles are awesome too.

October 7, 2007 at 11:05 PM

 

It looks fabulous on you! (no surprise there - you like red for a reason - it's a great color on you!)

I love mine for the office. It's perfect for fending off the overpowering AC.

October 8, 2007 at 4:18 AM

 

I love it!! And check out your gorgeous cables, you clever thing!!!!!! See, you're all set for the silver belle now!

Red and chocolate are a match made in heaven too.

Jealous at your being in the 80s. In the 60s here and WET!! I'd have to make a waterproof one :(

October 8, 2007 at 5:20 AM

 

Capelets aren't usually my style but I love the blood red yarn you chose for the project!

October 8, 2007 at 5:54 AM

 

CUTE! I love the colors you chose. You look fab in your Naughty little cape, lol.

October 8, 2007 at 10:26 AM

 

I love it!! It's too cute! Quick knit projects are the best!!

October 8, 2007 at 3:20 PM

 

Very, very nice.

October 8, 2007 at 4:22 PM

 

Red and chocolate make a great combination. The ribbon is a nice touch. You wear it well.

October 8, 2007 at 6:19 PM

 

How cute!!! Great posing too! Hope to see you on ANTM next year and while your there you can convert all the other to the knitting world :)
And your cables look great you have nothing to worry about when Silver Belle time comes :)
Looks like the perfect quick pick-me up project :)

October 8, 2007 at 9:41 PM

 

Nicely done! That last picture is really cute!

October 9, 2007 at 7:18 AM

 

That is too cute!!We all need a quickie sometimes!!Haha

October 9, 2007 at 10:57 AM

 

it is so cute! and you look beautiful in red!!!

October 9, 2007 at 3:35 PM

 

so cute! i love your projects!

October 9, 2007 at 10:52 PM

 

now i am lovin' this!!! that red suits ya girl! or should i be saying Crimson! :-D

October 12, 2007 at 7:33 PM

 

it is too, too cute!!!!! Love it!